Herkimer Jr./Sr. High School's Student Council, National Honor Society and National Junior Honor Society are continuing their annual Holiday Project that now serves about 200 students per year.
Students on the Student Council and National Honor Societies work with their advisers to organize the project and collect donations from local businesses and community members. Students are "nominated" by peers or staff members to receive a wrapped shoebox package filled with fun and useful items.
"Through this project, we provide shoeboxes filled with gifts and necessities to many students in grades 9-12 who may need extra holiday cheer," Herkimer Student Council President Kyle Carney said. "Often, our students only get one gift or sometimes no gifts, so as a student body, we are looking to help spread holiday cheer to as many of our students and families as possible."
Organizers said community support is a big reason for the success of this project and how much it has grown since it started six years ago as a small way to brighten the holiday season for some students. Club members and their families, staff and local businesses have been very generous in the past, and organizers said they would love and be thankful for their support again this year.
Holiday Project organizers are looking to collect cash donations, checks made payable to "HCSD Student Council," wrapping paper, tissue paper to line boxes, snacks (such as multi-packs of chips, crackers, cookies, granola bars and fruit snacks), drinks (such as Capri Suns, Gatorade, hot cocoa packets and bottles of water), easy meals (such as macaroni and cheese and ramen), hygiene items (such as shampoo, conditioner, lotion, soap and body wash), fun items (such as playing cards, stress balls and candy) and winter accessories (such as gloves, hats and socks).
Items can be dropped off at the main office of the Herkimer Jr./Sr. High School at 801 W. German St. in Herkimer. Please include a note with your items including that they're for the Holiday Project, a description of the donation and the contributor's name, address and phone number. You can also download, print and fill out a form to include instead of the note by clicking here.
Any questions can be directed to Student Council advisers Laura Scalise and Carolyn Saugh, National Honor Society adviser Caroline Lampert or National Junior Honor Society adviser Susan Hayes-Manning. You can contact the advisors by calling the school at 315-866-2230 or emailing them at lscalise@herkimercsd.org, csaugh@herkimercsd.org, clampert@herkimercsd.org or shayes@herkimercsd.org.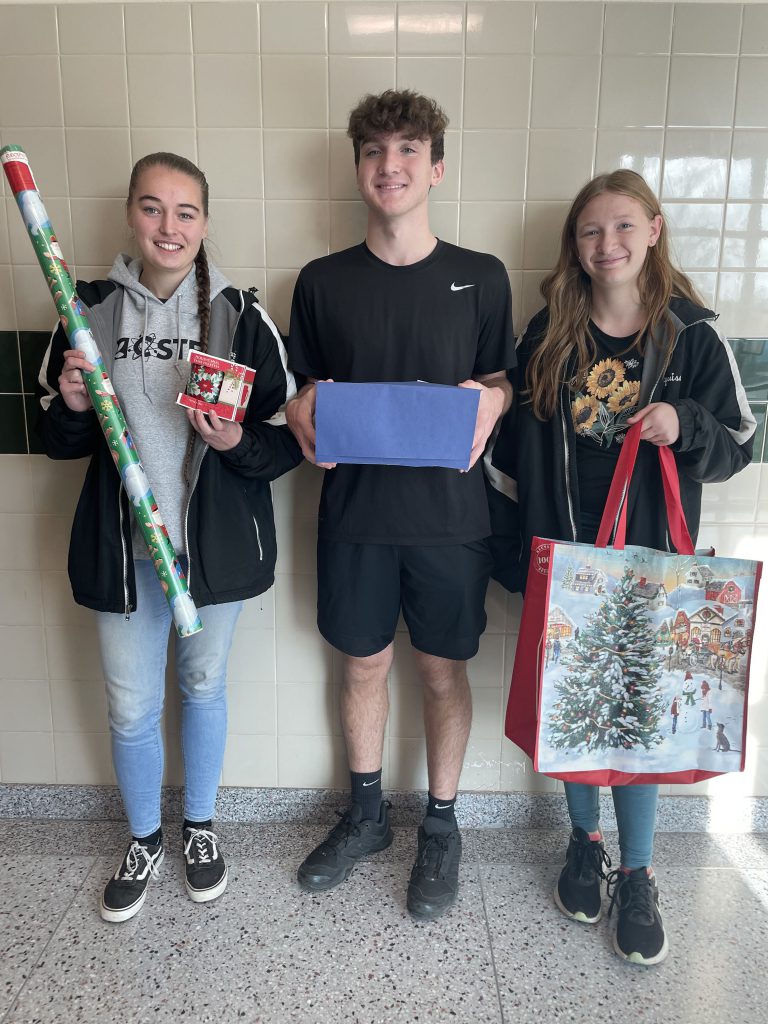 From left: Herkimer Central School District National Honor Society President Victoria Stapf, Student Council President Kyle Carney and National Junior Honor Society President Anna Marquissee pose with items for the annual Holiday Project the student organizations are conducting.